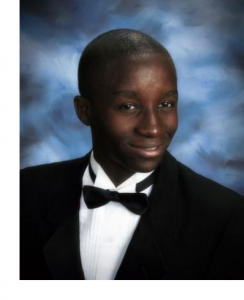 Talking with David Karambizi, you immediately are impressed by his insights, his intelligence, and his humility. What you'd never guess is the difficult road he has travelled to get to Cornell, where he is a sophomore studying pre med.
Born in Rwanda, David and his family left when he was five to escape the war which ravaged his country. They immigrated to the Ivory Coast, which was peaceful and stable, and the family was happy there.
While living in the Ivory Coast, they had a "once in a lifetime chance, like winning the lottery", in David's words, to come to the United States. They arrived in Atlanta but went immediately to Buffalo. David's initial response to Buffalo was one of disappointment. Buffalo didn't seem that different from Africa – and certainly not better. It was an emotional time for him. He frequently asked "Why did we come here?" He had expected more. The house they left in the Ivory Coast was larger and more comfortable than the one they lived in in Buffalo. And, the school he first attended was far from what he had hoped. The kids weren't grateful; the teachers had a hard time controlling the classes, unlike Africa – where strict discipline was the norm.
His mother found NativityMiguel and told him about it. David switched in eighth grade and his fondness for the school is apparent. "The kids are affected by Father Durkin. He has a way of connecting with people – both kids and parents. Everybody fears disappointing him. He is a father figure to a lot of us."
David's path to success was far from easy; initially Canisius High School was not going to accept him. But, he explained, "Father Durkin never doubted me. He fought for me and they (Canisius) gave me a shot. It was stressful. I had to study a lot."
His studying paid off. With the encouragement of his teachers at Canisius, he applied to Cornell University and was accepted.
What is most extraordinary isn't David's success; it's his attitude and his philosophy of life. David believes it's not his innate intelligence that is responsible for his success. He says intelligence is acquired in life. He reports being way behind when he started at Cornell, but he caught up by working harder than the other students "drill, drill, drill at the school library", he said.
David continued "When I don't finish my work, I don't sleep. I stay up. The work has to get done. And I don't believe in just passing; I want to excel."
David finished by talking about risk. "It was a risk for my family to leave Rwanda. It was a risk to come to Buffalo. Life is full of risks."
For David, the risks have offered rewards – rewards he certainly deserves!