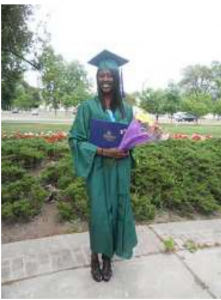 Tina Akaic's first impression of NativityMiguel wasn't all positive: wearing uniforms and attending an all-girls' school were new for her, and she didn't particularly like either one. But, in time, she grew to like both and appreciate their benefits.
Tina's early life was something that many of us cannot imagine. It was far from idyllic. Our only understanding of the hardships her family – and many families like hers – endured comes from the media. She was born in worn-torn Darfur, Sudan and later moved to Egypt. Unfortunately, not all of her family members were able to go: her father and some of her brothers and sisters stayed behind. Later, she and her mother, along with some of her siblings, immigrated to the US, living in Pennsylvania before coming to Buffalo.
Tina originally attended a public school, but like many students at NativityMiguel, a family member heard about the school's unique program and decided to check it out. In Tina's case, it was her mother who learned about NativityMiguel from Father Joyce, the Jesuit priest who brought the NativityMiguel model to Buffalo.
Looking back on her time at NativityMiguel, Tina reflects on a couple of the many characteristics which distinguish this school from any other: "The best thing about the school is that it is family-based and is connected to your home life. If something happens to you at school, someone will talk to your family. And they teach you to carry yourself like a lady: you not only get a great education, they teach you etiquette. And knowing proper etiquette helps you to be confident and successful in life."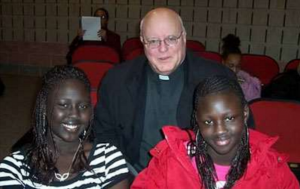 Tina further praised the school for its "God-based" education. "We got in touch with God in the morning, through prayer, and in the afternoon, before we left."
After graduating from eighth grade, Tina attended Tapestry Charter School. "It was very new at the time, but it was also small and family-based, which made me very comfortable. Thanks to the education I got at NativityMiguel, I fit right in and was successful in high school."
The teachers at NativityMiguel taught me to set my sights high and I knew, therefore, that I wanted to attend college. I chose E.C.C. for nursing and have just completed my first year. During this past year, I realized that what I really wanted to do was to study business to become a motivational speaker! So, I am switching majors and look forward to someday using my talents, education and life experience to help young girls."
In explaining her choice of careers, Tina said: "I want to tell girls things that my mother couldn't tell me because she wasn't always able to be there. She continued, "I want to teach them how to survive and how to contribute in the real world, to love each other as human beings and to cooperate with each other. And I want to help them learn to build each other up, not break each other down."
According to Nancy Langer, president, "Tina is a powerful reflection of all we strive to accomplish. Her strength of character, her desire to help others and her educational accomplishments make us all proud. What school wouldn't be delighted to count Tina as a graduate!