Doug Knorr has been enriching the lives of NativityMiguel students as a volunteer with the Science Firsthand program for over a decade. Science Firsthand runs weekly during the school year on the St. Monica's Campus. Through Science Firsthand, Doug—who has a degree in teaching, although he never pursued it as a career—gives students the time and space to explore: they make things, take things apart, and ask questions. Doug believes that by doing this, the students learn greatly about themselves.
During weekly sessions, as the students experiment, Doug tries to expose them to new things. Around Thanksgiving, he has the students create a "colloid"—or whipped cream—and he brings in a pumpkin pie to share. Doug's favorite times are when the students think of their own science experiments. When they study geology, someone always asks if you can start a fire with two rocks. When the time is right—and they're prepared with the proper safety equipment—Doug is happy to let them try.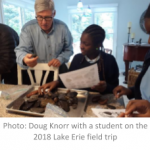 Doug periodically invites guests from science-related fields, like research science, law, engineering, and medicine. In part, he does this so the girls can be introduced to the many careers that use science.
Doug hosts several field trips each year, including one where the girls get to make maple syrup. For this session, they tap the trees, extract the sap, boil it down—and eventually put fresh syrup on homemade pancakes. Doug knows that, because most NativityMiguel students are from the inner-city, the quiet of the woods can be a valuable experience for them. During another field trip, they visit the shores of Lake Erie, where they take a trip "back in time" by learning about different types of rocks.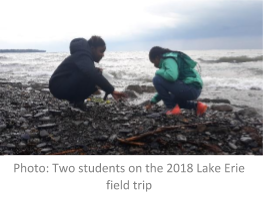 Doug's enthusiasm for NativityMiguel is boundless. Like most volunteers, he says he gets far more out of his time at the school than he gives. He has a mountain of respect for NativityMiguel's teachers, calling them "heroes." And he sees positive change: he sees the girls mature as they progress from 5th to 8th grade, and he sees continuous growth in the academic foundation provided by the school. He calls the school "a gem" in Buffalo, and he appreciates how you can make a real difference there. Whether it's by volunteering or donating money, every resource is used to its greatest potential. As for Doug, his impact is clear: through his efforts, the students have an increased chance of career success in science-related fields. And because participation among women in these fields is far below where it should be, this is a profound impact to have.
To learn more about NativityMiguel and to support the school, please visitOur 2018 Annual Fund Campaign page.