A Day in the Life of a NativityMiguel Student—on Advisory Day!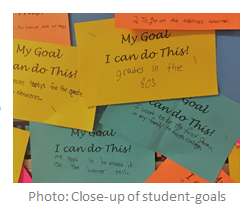 In September 2018, NativityMiguel Middle School launched its new Advisory Program. As part of the program, on Advisory Days, students have one-on-one meetings with their academic advisors. During these meetings, the conversation focuses on goal-setting. Through goal-setting, students become more invested in their education by discussing not only where they want to go, but how they will get there.
As an added benefit to Advisory Days, students participate in enrichment activities, from baking cookies and writing Christmas cards to honing study skills and deconstructing computers.
The roots of NativityMiguel's Advisory Program can be traced to our 2017 Strategic Plan, which highlighted a goal of providing a personalized approach to learning designed to meet the unique needs of our students.
Advisory Days take place three times per year: in the fall, winter, and spring. Our Dean of Instruction, Susan Cain, spends countless hours planning the days and assigns key tasks to staff and volunteers. As for students, we ask them show up with a "growth mindset," or a belief in their ability to learn and grow.
A Day in the Life Of…
As a student participating in an Advisory Day, your day might unfold like this:
During the first session of the day, you'll participate in a themed art project; today, you're painting the NativityMiguel symbol for inclusion in a school-wide collage. During this session, you'll be called for a one-on-one meeting with your academic advisor. You'll talk about your goals for the school year and the progress you've made so far. You'll identify action steps that will help you reach your goal. You'll finish your meeting by writing your goal on a magnet, which you'll hang inside your locker.
During session two, you'll participate in a STEM-focused activity led by non-profit Mission: Ignite. Today, you're working with a team of classmates to build a Rube Goldberg contraption in a limited amount of time. The goal is to get the ball to move through the contraption without having to touch it. The competition is fierce, but your team wins!
During session three, you'll participate in a teambuilding activity. Today, the teambuilding is led by Mr. Christopher Pitek, Principal of Nardin Middle School, and Mr. Michael Pitek, local consultant, artist, and life coach. On this day, Mr. Pitek and Mr. Pitek are giving students a chance to make music with boomwackers. Besides being fun, the session gives you an outlet for your creative and physical energy.
Finally, it's lunchtime. Lunch is set with table cloths and flowers, which remind you that today was something special. The menu includes pizza, donated by Wegmans. You're reminded of the importance of your participation—and that your hard work will help you reach your goals.
This year, Annual Fund gifts will honor the extraordinary efforts of our students, staff, and volunteers as they contribute to this invaluable program. We ask that you would give generously and support our students as they work tirelessly to reach their goals. Visit our website to learn more or to make your gift:  https://nativitymiguelbuffalo.org/annual-appeal-2019.  Thank you!