Martha Buyer volunteers each week as an after-school reading tutor for NativityMiguel Middle School. During weekly meetings, three or four students sit in a circle, snack on fresh fruit, and take turns reading aloud from a chosen book. It's quiet, relaxing—and in many ways, magical.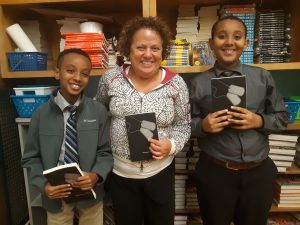 Martha was inspired to volunteer at NativityMiguel by Peter Heffley, who's been leading reading groups there for nearly a decade, as well as her friend Hank Hilton, whom she first met as a Jesuit teacher at Canisius College. When Martha learned about NativityMiguel, she fell in love with its mission: to break the cycle of poverty through education. 
During meetings, students read aloud from fiction and non-fiction books; examples include A Wrinkle in Time, Hatchet, and Code Talker. The first book is chosen by the school's English teacher, Debbie Mulhern, and after that, the students can choose. Once, a group asked to read Harry Potter and the Sorcerer's Stone. Martha agreed, on one condition: they'd have to read the book outside of their meeting time in order to finish it (it was late spring in the school year). The students agreed, and they sailed through the book—as well as the next one in the series.  
For Martha, her role as a tutor is just one of the ways she serves the school. Martha is a member of the Board of Trustees, currently serving in her second term. She believes the two roles—tutor and Trustee—go hand-in-hand, and that each informs the other.To watch Martha in action, it's clear why she's so effective with the students. For one, she doesn't stop at mechanics. When students read aloud, she pauses them frequently to check for understanding. She ensures they get the right intonation. Martha takes her students far beyond improved reading: she helps them find a love for reading, and for unlocking the knowledge that's stored in books.
After six years of leading groups, Martha has plenty of memorable stories. One year, after a trip to Vietnam, she brought in chopsticks for her students to try. They practiced by picking up Cheetos, peanuts, and tangerine segments. Martha says, "I'm not sure those kids would remember the book we read, but I'm sure they'll always remember learning to use chopsticks." This approach—of going beyond the book to focus on learning—is what's so special about Martha.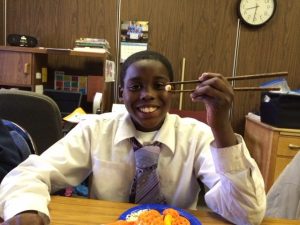 To learn more about NativityMiguel and to support our work, please click here to visit → Our 2018 Annual Fund  page.